Golden Hour Slub Stretch Selvedge - Super Guy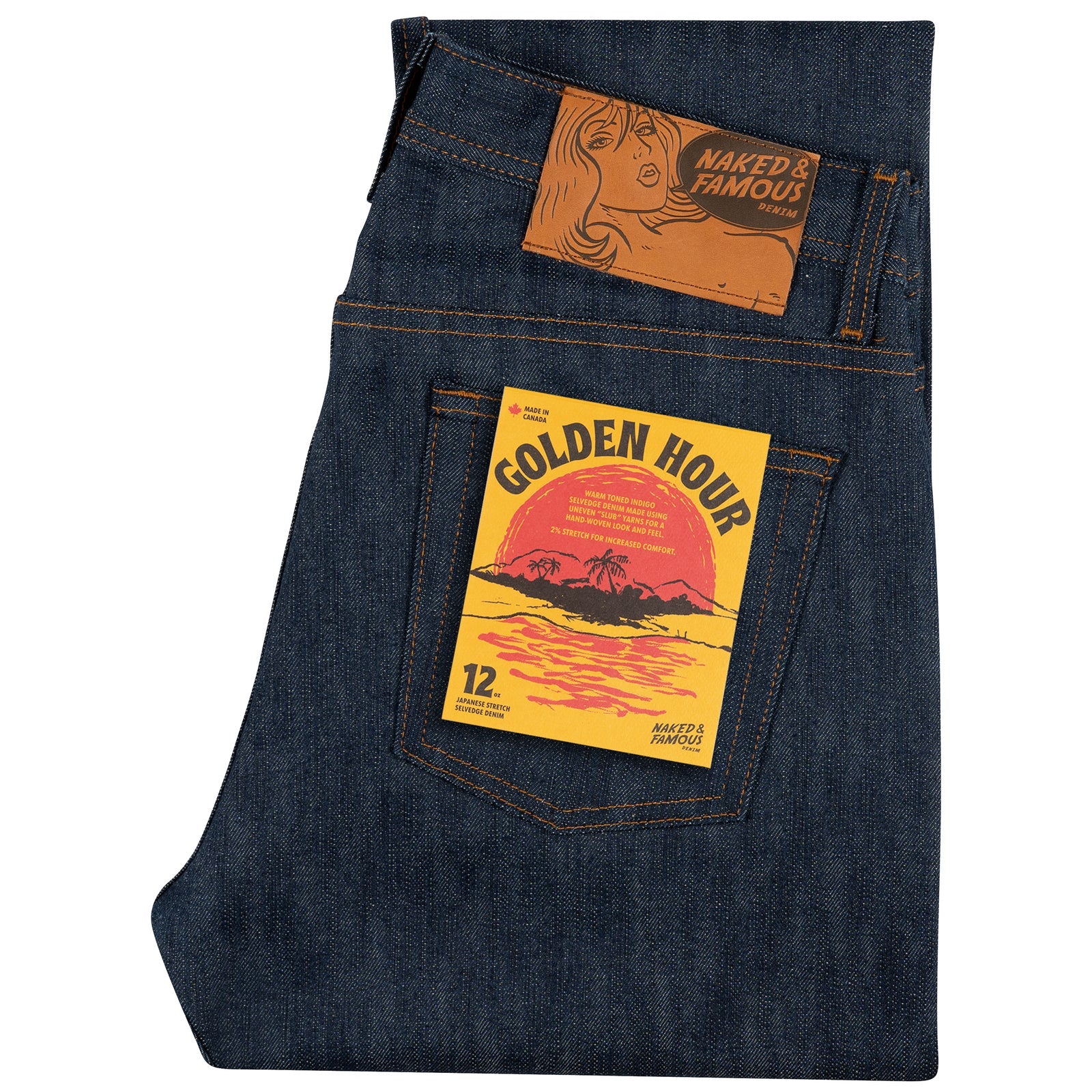 Designer: Naked & Famous
The Golden Hour Slub Selvedge is a 12oz Japanese selvedge denim with a uneven, bumpy surface texture. To achieve this, the denim is slowly woven on vintage shuttle looms woven using irregular sized slub yarns which are think in some parts and skinny in others. The result is a uneven, organic grain in the denim reminiscent of hand-woven fabric. 2% stretch was added to improve comfort and reduce break in time. Cut, sewn, built in Canada with contrast stitching, classic redline selvedge ID, copper leather patch, and silver metallic buttons and rivets.

The Super Guy is a skinny fit with a medium rise, a slim top block, and a taper from knee to hem.
12oz Japanese Selvedge Denim

98% Cotton, 2% Elastane

Made in Canada

SKU:101106500
Please use the measuring guide below to determine your best fit.
| | | | | | | | | | | |
| --- | --- | --- | --- | --- | --- | --- | --- | --- | --- | --- |
| TAG SIZE | 28 | 29 | 30 | 31 | 32 | 33 | 34 | 36 | 38 | 40 |
| WAIST | 30" | 31" | 32" | 33" | 34" | 35" | 36" | 38" | 40" | 42" |
| FRONT RISE | 9.5" | 9.75" | 10" | 10" | 10.25" | 10.25" | 10.5" | 10.5" | 10.75" | 11" |
| BACK RISE | 14" | 14.25" | 14.5" | 14.5" | 14.75" | 14.75" | 15" | 15" | 15.25" | 15.25" |
| UPPER THIGH | 10.75" | 11" | 11.25" | 11.5" | 11.75" | 12" | 12.25" | 13" | 13.25" | 13.5" |
| KNEE | 7.5" | 7.75" | 8" | 8" | 8.25" | 8.5" | 8.75" | 9.25" | 9.75" | 10" |
| LEG OPENING | 6" | 6" | 6.25" | 6.5" | 6.75" | 7" | 7.25" | 7.5" | 8" | 8" |
| INSEAM | 34.5" | 34.5" | 34.5" | 34.5" | 34.5" | 34.5" | 34.5" | 34.5" | 34.5" | 34.5" |
A variance of +/- 0.5" (1.27cm) is within tolerance